Product Information
What stands out
39 dBA noise level
8kg/24 hours freezing capacity
Adjust the height with adjustable feet
Integrated freezer with 4-star freezer rating
Designed to fit into a kitchen cupboard unit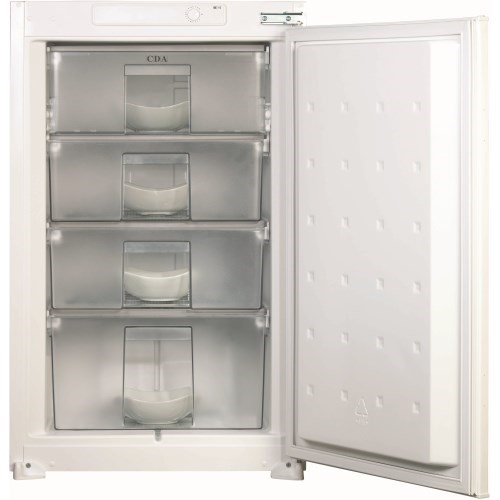 CDA's integrated fridge freezer is the ideal way to have ample storage space for frozen goods, without having to sacrifice on floor space in the kitchen. With a 4 star freezer rating and a thermostat dial control, you can rest assured knowing that this freezer can adjust to suit whatever food you store.
Capacity
With 99 litres of usable capacity, there's more than enough room in this freezer for all the frozen essentials such as ice cream, a joint of meat, ready meals and frozen vegetables.
Storage
This freezer comes with 4 storage compartments and 1 ice cube tray. The bottom compartment is larger than the other compartments which is ideal when it comes to buying and freezing larger items, such as the Christmas turkey.
How does this fit into my kitchen?
In-column (also known as integrated and built in) freezers fit into a (column) kitchen housing unit and behind a furniture door that matches your kitchen units. This CDA freezer is designed to be installed into a standard larder unit of width 560-570mm and depth of 550mm, so please measure the dimensions to ensure the freezer fits comfortably in your kitchen.
Please note: this item is not for under-counter installation.
Dimensions: (H) 875mm x (W) 540mm x (D) 550mm
The door is reversible, which makes it possible to change which direction the freezer door opens to best fit with your kitchen outlay.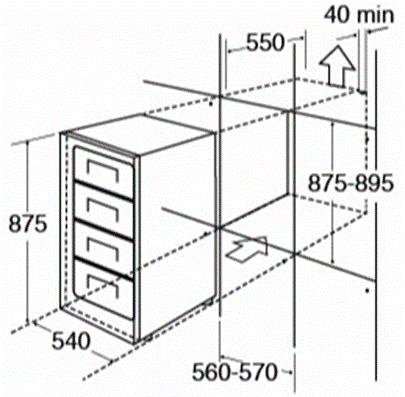 Thermostat dial control
The thermostat control dial allows you to set the freezer between 1 (least cold) and 5 (coldest), so that you can adjust the temperature to suit your groceries.
The thermostat control comes in handy when storing new food into the freezer. Simply turn the dial to number 5 for 24 hours to get fresh food frozen quickly to preserve essential nutrients and flavour.
4 Star freezer rating
This CDA freezer comes with a 4 star rating, which means it can store frozen goods for up to 12 months of their storage. 4 star freezers are also capable of freezing fresh food, which is ideal if you buy in bulk.
Technical information:
Noise level: 39 dB(A)
Freezing capacity: 8kg/24 hours
Temperature warning light
Height adjustable feet
Integrated freezer
4 star freezer rating
Thermostat control
Designed to fit into a kitchen cupboard unit
4 storage compartments