Product Information
DIMENSIONS: H 32 x W 685 x D 500mm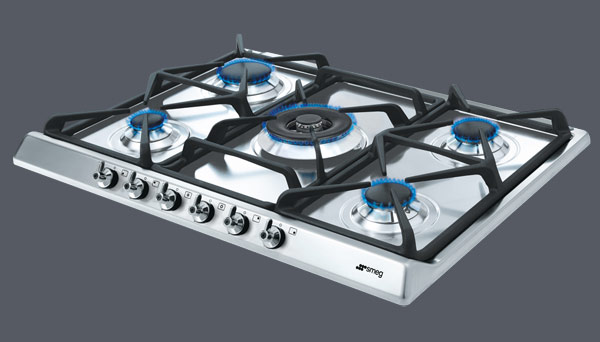 Classic by name, this hob from Smeg delivers the performance you would expect from a high quality gas hob from a top brand. With five burners, the SE70SGH-5 is ideal for larger family households or anyone with a passion for cooking.
VARIABLE BURNERS
This hob features five powerful burners, one more than most gas hobs available, providing the tools to cook more at once. Varying in size, you can assign each burner to a different task, depending on the meal you are putting together. By matching your pan or pot size to the burner, you can enjoy more effective results, wasting less energy as you go.
Each burner has its own individual dial control, allowing for extremely precise flame height adjustment. Take control and produce fantastic results every time.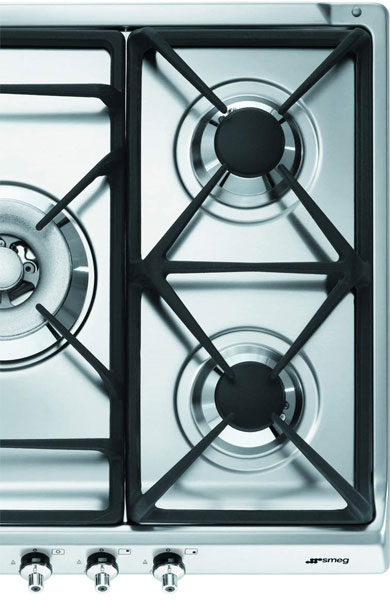 ROBUST SUPPORTS
Cast iron pan supports offer a stable and robust platform for your pots and pans. Lowering the risk of your pans falling and spilling, they help to produce a safer cooking environment. The supports cover the width of the hob, making it easy to slide a pan off the heat if needed.
USEFUL FEATURES
The burners each have a flame failure device, monitoring the status of each flame. Should a flame go out, the supply of gas is shut off immediately to prevent any further dangers.
Lighting the hob is quick and easy, and can be achieved with one hand. Simply twist the knob to open the flow of gas, before pushing it in to ignite a spark.
When it comes to cleaning, the stainless steel finish is extremely smooth which means any splashes or spills can be wiped away instantly. As the surface does not get hot itself, you remove anything from the surface straight away. For more thorough cleaning jobs, the pan supports can be lifted out of place for greater access to the surface.
Key Features
Colour : Stainless steel
Manufacturer : Smeg
5 burners
Rear left: 2.55 kW
Front left: 1.05 kW
Centre: Ultra-rapid dual flame 3-way burner
4.95 kW (3.90+1.05 kW)
Rear right: 1.65 kW
Front right: 1.65 kW
Stainless steel base
Stainless steel knobs
Cast iron pan stands
Matt black burner caps
Automatic electronic ignition
Safety valves
Adaptable for LPG