Grade A2 - Average condition with visible light scuffs or dents


Warranty included
Enjoy the peace of mind that your product is covered with a guarantee on both parts and labour.

Fully working
Our expert engineers rigorously test and check every product to ensure everything functions as it should.

What's included
All accessories are included unless otherwise stated in the description below.

Limited stock
Our refurbished products sell out quickly, so be quick and get a fantastic product at a fraction of the new price.
Flexible Induction Cooking
With Flex Induction you can get creative with how you use your hob. Merge flexible cooking zones into one, evenly heated surface. Use the big zone for large cookware – or load it flexibly to cook rice, steam veggies and simmer your sauce. Your hob scans the size and shape of your cookware and heats only where needed.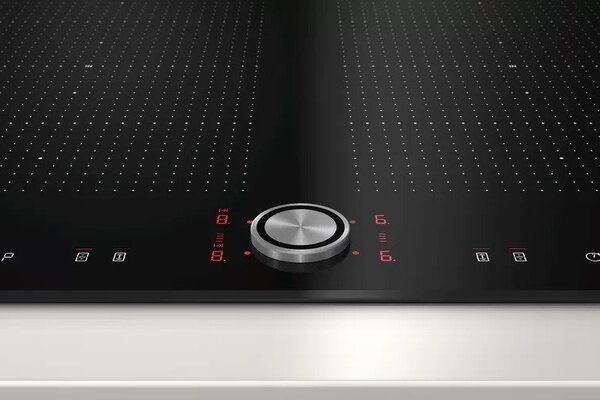 Twistpad®
The stage is set for our intuitive little helper: The TwistPad® is handy finger food for your every desire. Simply touch the TwistPad® lightly to activate the desired cooking zone before you rotate this genius button to the power level of your choice. The magnetic TwistPad® is removable and ready to transform your hob into a creative hotspot that is easy to clean.
Induction
With induction cooking, the heat is generated directly in the cookware for precise cooking that stops when power is off.
FlexInduction
The FlexZone lets you place your pots and pans anywhere you want and heats them exactly where they stand.
Twistpad
The TwistPad® is a removable, magnetic control knob that gives you precise, convenient control over all cooking zones.
PowerMove
The FlexZone is divided into three heating zones: boiling in front, simmering in the middle and warming in the rear.
Flexibility
2 Flex zones
4 zone induction hob
Special features
Boost setting for all zones
PanBoost
Variable 17-stage power settings for each zone
Digital display of cooking levels
2 stage residual heat indicators
Timer with automatic shut off for all zones
LED timer for each zone with switch off function and acoustic signal
Count up timer
ReStart function
Automatic pan recognition
4.6kW power output (20A); current management options for 16A, 13A or 10A connection
Safety cut out facility
Control panel lock
Control panel suspension
Keep warm function
Energy consumption display
Technical information
Cooking zones: 1 x Ø 380 mmx240 mm, 3.3 KW (max. Power levels 3.7 KW) Induction or 2 x Ø 190 mm, 2.2 KW (max. Power levels 3.7 KW) Induction; 1 x Ø 380 mmx240 mm, 3.3 KW (max. Power levels 3.7 KW) Induction or 2 x Ø 190 mm, 2.2 KW (max. Power levels 3.7 KW) Induction
Measurement: (H/B/T) 51 x 592 x 522 mm
Installation dimensions: (ID/W/D) 51 mm x 560 mm x 490 mm
60 cm width
Length wire connection: 110 cm
Main switch
Min. worktop thickness: 30 mm
Output 7400 W
Cable included in packaging