Product Information
Ergonomically Shape - Favored By Top Esports Athletes
Perfectly designed to fit snugly under your palm, the ergonomic shape of the Razer DeathAdder Chroma gives gamers the most comfortable gaming experience ever, especially during the most testing of battles. Together with its rubber side grips, the Razer DeathAdder Chroma keeps you in control for extended gaming sessions.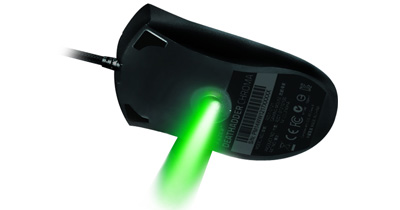 Ultra Accurate Optical Sensor Powered With Advanced Tracking Analytics
The Razer DeathAdder Chroma is equipped with a 10,000dpi optical sensor, capable of mouse movement speeds of up to 200 inches per second and 50g acceleration. This means you can move it at either fast or slow speeds, and it will always respond onscreen with exacting accuracy and the organic fluidity only possible with an optical sensor.
Together with the incredible amount of technical tracking data provided by Razer Synapse: Stats and Heatmaps, this allows you to tweak the Razer DeathAdder Chroma to your individual play style and improve your accuracy by leaps and bounds.
Chroma Lighting With 16.8 Million Customisable Colour Options
Whether you're in the mood for electric blue, pastel pink, or signature Razer green, you can now illuminate your Razer DeathAdder Chroma's scroll wheel and Razer logo just the way you want. All set easily through Razer Synapse, this beloved gaming mouse becomes uniquely yours.

SPECTRUM CYCLING
Slowly cycles through the entire spectrum of 16.8 million colors for a subtle yet visually stunning look.

BREATHING
Gently pulses in a color of choice every 7 seconds, replicating the steady breathing pattern that is distinct to all Razer mice.

STATIC
Illuminates your mouse in any color you pick from the selection of 16.8 million colors.
Features
Ergonomic right-handed design with textured rubber side grips
10,000dpi optical sensor
Chroma lighting with 16.8 million customizable color options
Razer Synapse enabled
Five independently programmable Hyperesponse buttons
1000Hz Ultrapolling
On-the-fly sensitivity adjustment
Always-on mode
Up to 300 inches per second*/50g acceleration
Gold-plated USB connector
Seven-foot, lightweight, braided fiber cable
Dimensions
W x H x L: 70 x 44 x 127mm
Weight: 105g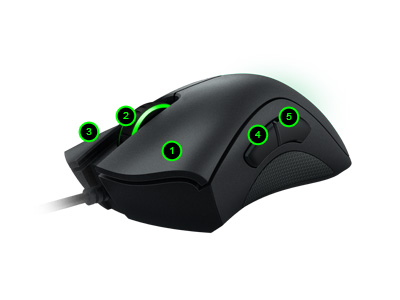 Buttons
1. Left click
2. Scroll wheel & middle click
3. Right click
4. Left side button 1
5. Left side button 2