First-class coffee quality
The latest generation of JURA's most successful coffee machine model boasts a reinterpreted design and a range of benefits previously found only in the premium class.

The Professional Aroma Grinder delivers a flawless grinding result, state-of-the-art brewing processes allow the coffee aromas to fully develop and trend specialities are better than ever thanks to the airy, feather-light milk foam. The innovative E8 offers 17 different specialities – from an aromatic espresso to a trendy cortado. It can also prepare long, mild specialities such as caffè Barista and lungo Barista to professional barista standard thanks to a new fluid system. Those who like their coffee more intense can pep up their cappuccino, flat white or latte macchiato using the Extra Shot function. With the optimised fluid system, even milk system cleaning is carried out automatically at the touch of a button.
First-class coffee quality
The Professional Aroma Grinder guarantees 12.2% more aroma and consistently high grind quality so that flavours unfold to perfection throughout the entire service life of the grinder. The Pulse Extraction Process (P.E.P.®) ensures maximum flavour for short specialities, while intelligent preheating guarantees the ideal temperature right from the first cup.
Luxurious operation
A 2.8" colour display, six buttons and a completely new operating concept featuring artificial intelligence enable simple handling. An intelligent algorithm identifies individual preferences and adapts the start screen so the user's two or four favourite specialities are always displayed.
Harmonious design
JURA coffee machines feature a clean and expressive characteristic design. High-quality materials and precise craftsmanship underline the premium quality of the modern E8.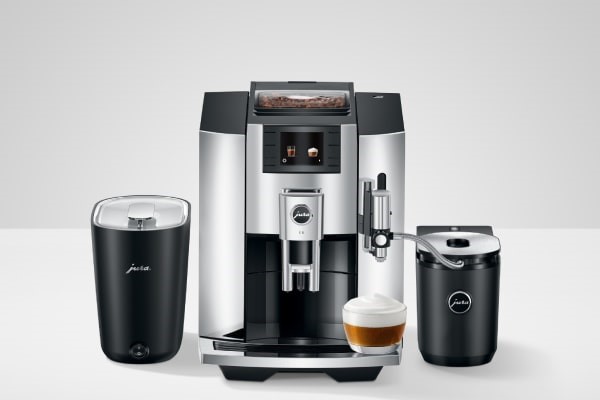 Key features
Freshly grinds coffee beans for an aromatic cup of coffee
Make 2 cups at once
Produces airy, feather-light milk foam
17 specialty recipes
Simple 2.8" colour display with 6 buttons for operation
Connects with Jura's J.O.E. app to allow you to prepare speciality coffees, set and store personal preferences and easily send your guests' coffee orders directly to the coffee machine from your smartphone
Integrated rinsing, cleaning and descaling programme
Energy Saving Mode + Programmable switch-off time