Product Information
HASSLE-FREE HOOVERING
If youre looking to stay a step ahead of the daily dust and debris but dont have the time, then we have the perfect solution for you. The iRobot 616 features Roombas patented 3-stage cleaning process with counter-rotating brushes and powerful vacuum to remove dirt, dust, hair and other debris from your floors. Its comes with a whole host of clever features to help it navigate your room, keeping track of its location and recharging as needed until the job is done. This robot also comes with a built-in carry handle for quick and easy transport from room-to-room.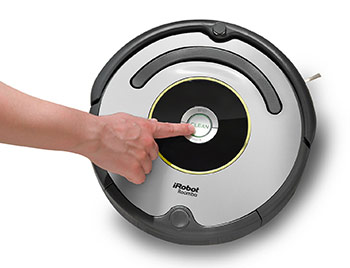 EFFORTLESS CLEANING
The Roomba 616 is extremely easy to use. With just the press of a button, this advanced robot vac will get to work cleaning your floor without the need for any complicated programming. It can also perform a quick vacuum of small areas that need attention using the spot clean mode.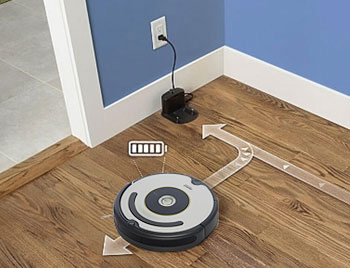 RECHARGE & RESUME
This intelligent robot vacuum comes with an enhanced battery to help it go the distance when cleaning your room. And, if the machine runs out of battery mid-clean, then itll automatically returns to its Home Base to dock and recharge so you can leave it to get the job done without having to intervene.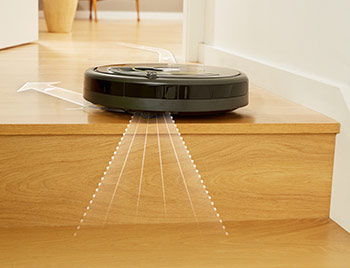 NO WHERE FOR DIRT TO HIDE
The Roomba 616 is equipped with iAdapt Responsive Navigation technology which allows it to work its way in and around the nooks and crannies of your room whilst avoiding dangerous drops. Plus, its perfectly suited to clean under most furniture and get into hard to reach places a traditional vacuum cant.
Key Features
Uses a patented 3-stage cleaning process with counter-rotating brushes and a powerful vacuum
Cleans along wall edges using a spinning side brush for the most thorough floor coverage
Uses Dirt Detect™ to focus on areas with a higher concentration of debris
Find its way around the home using iAdapt® Responsive Navigation Technology
Cleans under and around furniture, beds, into corners and along wall edges
Avoids stairs, obstacles and loose wires
Works in cluttered rooms without damaging furniture
Automatically returns to its Home Base™ to recharge between cleanings
Performs a quick vacuum of debris confined to a small area using Spot Clean Mode
Convenient carrying handle: A handle for easy transport room-to-room or between floors.
iRobot XLife™ Battery delivers twice as many cleaning cycles as previous Roomba batteries, doubling the time before a replacement battery may be needed*
Dust container with large capacity: 0.468 litres
Whats Included?
1 Roomba 616 Vacuum Cleaning Robot with Side Brush and AeroVac™ Bin
1 Home Base™ with integrated power supply
1 iRobot® XLife™ Extended Life Battery
Dimensions:
Diameter: 34cm
Height: 9.2cm
Weight: 3.6Kg
N.B. Please note, robot vacuums can struggle with black or dark areas. The drop-off sensors read these areas as a drop-off and will not cross over them. It is possible, however, to cover up these sensors to allow the robot to vacuum over dark areas. Just be sure to put a physical barrier in front of any real drop-off points to prevent damaging the unit.