Product Information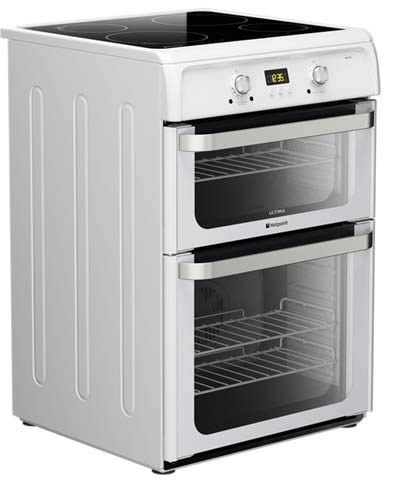 Dimensions: H90 x W60 x D60 cm
Modern design
Finished in crisp white the Hotpoint Ultima is fresh and bright, the ceramic hob adds a sleek, stylish element and the digital display completes the contemporary look. The Hotpoint HUI612P Ultima has a truly modern aesthetic.
Induction hob
The induction hob is stylish but also easy to use. There are four zones, two large and two smaller zones providing 1200W and 1500W, giving space and flexibility when cooking. When switching the hob on the zones will illuminate, they will remain lit until the hob has been turned off and the heating areas have cooled, a practical safety feature.
The hob also has a safety lock, settings and zones can't be unintentionally modified. If you accidentally leave your hob on the zones will automatically switch off after a certain amount of time, depending on the power level they are operating at. For example if you have a zone set to level 5 and it is left on it will take 5 hours to automatically switch off.
Quality cooking
With a circulaire fan main oven there's no need to preheat the oven before use as the oven will heat up quickly and heat will be distributed evenly, providing even cooking on all shelves of the oven. The top oven can be used in conjunction with the main oven to provide more cooking space and also operates as an open door grill giving ideal cooking flexibility.
Control at your fingertips
Featuring easy to use, modern touch controls you can effortlessly control the hob with more precise heat levels, delivering a higher quality cook. The fascia of the oven has a digital display with a programmable clock and minute minder and two simple rotary controls. Making the Hotpoint HUI612P Ultima easy to navigate and use to its full potential.
Easy clean
With a induction hob the surface is smooth and sleek making it super easy to wipe clean. Thanks to catalytic liners in both oven compartments fat and grease is broken down using the ovens own heat, meaning you spend less time cleaning.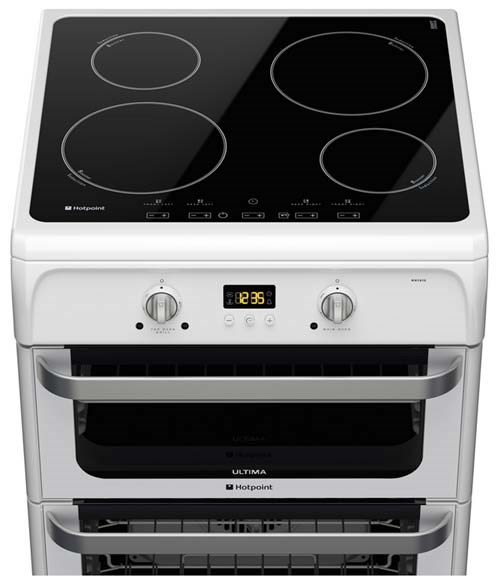 Features:
White crisp finish with a digital display
Easy to wipe clean four zone induction hob
Separate static grill ideal for adding a crisp finish
Safety lock to prevent any accidents
Circulaire fan in main oven distributes the air evenly
Dimensions: H90 x W60 x D60 cm
71L Oven capacity
Static grill
39L Grill capacity
Energy efficiency rating A
Catalytic liners
Triple glazed oven doors
Electronic programmable timer