Grade A1 - Good condition with hard to spot minor blemishes


1 year warranty
Enjoy the peace of mind that your product is covered with a guarantee on both parts and labour.

Fully working
Our expert engineers rigorously test and check every product to ensure everything functions as it should.

What's included
All accessories are included unless otherwise stated in the description below.

Limited stock
Our refurbished products sell out quickly, so be quick and get a fantastic product at a fraction of the new price.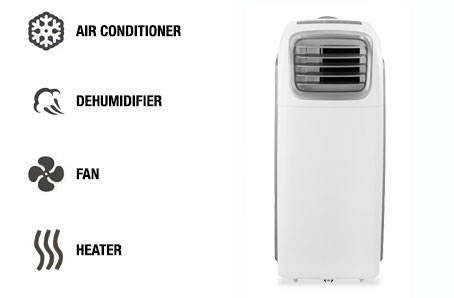 FLEXIBLE DESIGN
This energy efficient 4-in-1 air conditioner from electriQ is one of the most flexible portable units on the market. The Airflex15 is an air conditioner, heater, dehumidifier and fan, making it the perfect all-year-round domestic or commercial product. It boasts the most efficient type of cooling and heating for total peace of mind and performance. Plus, its been awarded an IPX4 weather resistant TUV certificate for outdoor / indoor use in areas exposed to rain or water.
4 IN 1 DESIGN
The Airflex15 is the perfect year-round product. Use the air conditioner and fan modes to stay cool in the summer, and remain toasty in the winter with the heater and dehumidifier. The powerful air conditioning is ideal for rooms up to 38 sqm (400 sqft) and features a unique evaporation booster that provides a refreshing, cooling effect. Theres also a powerful dehumidifier function that can extract up to 33.6L of excess moisture from the air per day to create a healthier environment.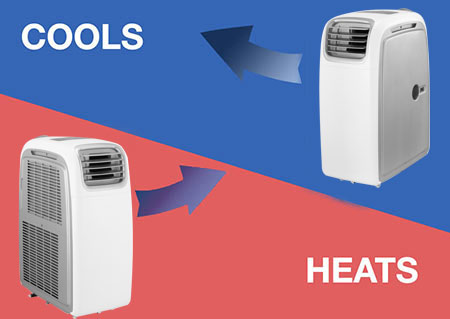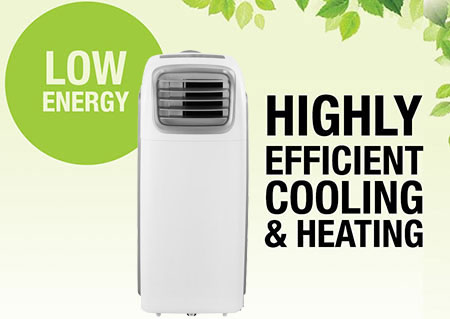 ENERGY EFFICIENT
This energy conscious air conditioner features the most efficient type of cooling and heating systems to deliver impressive performance without compromising power consumption. It requires only 1.5 kW of power to produce 4 kW of cooling / 3.2 KW heating, which works out far more cost-effective when compared to electrical or central heating. Plus, its been awarded an impressive A/A+ energy efficiency rating which makes it cheap to run and can bring down the cost of your energy bill.
CLEVER DESIGN
This space-saving, self-contained unit does not require an external condenser, refrigerant piping or outside contractors which makes it an ideal solution for server rooms. The Airflex15 requires no permanent installation and is ready to use straight out of the box. The four durable castor wheels provide easy mobility from one space to another, while the electronic control panel and remote control allow for simple operation.
Plus, with the Airflex Comfort Kit (supplied separately) you have the added option to store the Airflex15 outside of a room you want to cool/heat to help save space and reduce noise - ideal for offices, server rooms, corridors, military tents and marquees.
This extremely versatile air conditioner can be used in a number of ways:
1/ Positioned inside the room blowing cold air in and expelling hot air outside.
2/ Positioned inside the room, heating and expelling cold air outside.
3/ Positioned outside the room, cooling via vent or air comfort kit and expelling hot air outside.
4/ Positioned outside the room, heating via vent or air comfort kit and expelling cold air outside.
5/ Use as spot cooler to blow cold dry air directly onto a specific area; e.g. directing the strong cold air flow over expensive server/network technology.
6/ Blowing cold air via standard vent kits directly on the servers racks, cooling them and expelling hot air outside the racks.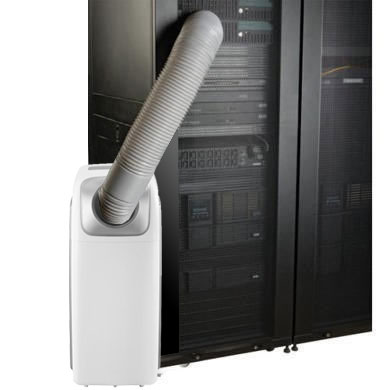 Why this air conditioner is right for you:
For business enquiries, call 0871 6201056
A/A++ Energy Efficiency
Cooling, Heating and Dehumidifying
All year round climate control
Compact Design, Touch Panel Controls, Water Resistant
Very low power consumption
Great for Server rooms
Good for Home, Office, Commercial use
Ideal for medium sized rooms up to 38 sqm (400 sqft)
Intelligent microprocessor for improved energy efficiency
This air conditioner is packed full of features:
Electronic panel display
24-hour timer
Remote control
Unique evaporation booster for high efficient cooling
3-speed turbo fan with sleep mode
R410A green refrigerant for improved cooling
Directional louvers
Reverse cycle heating, efficient and easy to convert
Cable management system
Technical Information:
4 in 1 unit with Heating, Cooling, Fan, Dehumidifier function
Dehumidification max 33.6 L/day
Air flow (at high speed): 480 m³/h
Power supply (V): 220-240
4 kW Cooling, 3.2 kW Heating
14,000 BTU
Running Power consumption (W) 1.5 kW (cooling), 1.5 kW (heating)
Running Current: 7 Amps (cooling) / 6.8 Amps (heating)
Refrigerant R290/235g
Hose 1.5m
Noise dB - Noise Level: ≤65 dB(A)
Dimensions:
Dimensions: 321 x 580 x 767mm
Weight: 28Kg
Hose Diameter: 15cm
Please note that the heat pump mobile air conditioners will need to be vented out in heating mode, ideally through the wall. By properly venting them you will expel cold air from your room while efficiently heating it. The unit will not need venting in dehumidifier mode.
Download Instruction Manual