Bringing you closer to the Beauty of our World
The Delonghi Argento kettle is beautifully crafted and has an elegant design inspired by the natural landscapes providing a beautiful centre piece of any kitchen. On top of that is made from strong high-quality plastic with bright chrome details and a beautiful matt finish.
Water level indicator and 1.7 litre capacity
With a large 1.7 litre capacity in combination with the integrated water level indicator which helps you boil just what you need if you're only brewing for one person or up to 7 cups, saving you time, energy and money.
Swivel base
The 360° rotating swivel base is fully detachable for a convenient cordless operation. Allowing you to easily pick up and use the Delonghi Avvolta kettle whether you are right handed or left handed.
Filtration
Fully Removable and washable water filtration to ensure purity of freshly boiled water for you tea or coffee
Perfect Match
If you like the style and want to coordinate your kitchen this kettle would perfectly pair with the Delonghi Argento Four Slice Toaster - Grey (CT04.GY)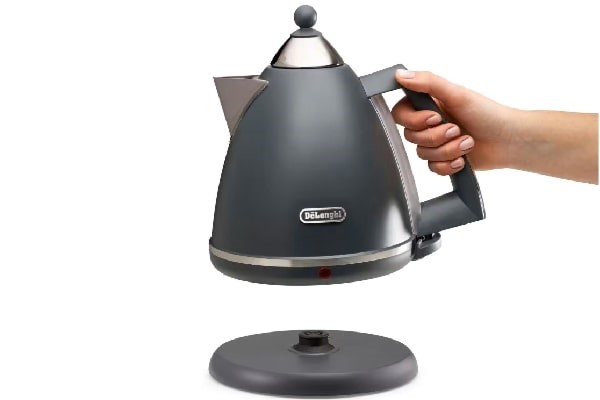 Key features
· Great ease of use thanks to the Water level indicator and the wieldy rotating swivel base
· Water capacity up to 1.7 litres
· Add an touch of the natural world to your kitchen with the Argento design
· 360 Degree cordless operation
· Detachable lid
· Removable pouring filter
· Water level indicator
· 3000 Watt power
· Cable store in base