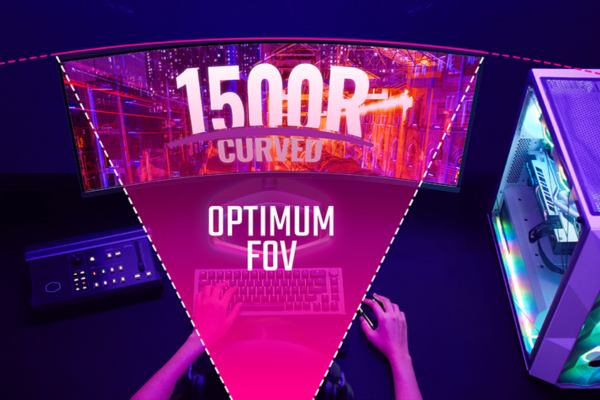 FEEL THE IMMERSION
View your content with an entirely new level of immersion with our ultra-wide 34" curved monitor. With top-notch gaming specifications along with wide color gamut support, the GM34-CWQ ARGB monitor is the perfect centerpiece addition to your work and play setup. FEEL THE CURVE Get closer to the action with the 1500R VA panel. With a larger perceived field of view, you'll save on setup space, face less distortion and enjoy better eye comfort, in a truly immersive vantage point.
ENHANCED CONTRAST FOR DEEPER BLACKS
With an enhanced VA panel technology, the possibility of light leakage across the entire screen is greatly minimized. The GM34-CWQ ARGB monitor is able to deliver a static 4000:1 contrast ratio for extremely deep black levels and brilliant whites in even the darkest and brightest scenes.
UWQHD RESOLUTION
For productivity and content creation, the ultra-wide resolution of 3440x1440 offers vastly wider screen space for increased multi-tasking efficiency. Scrubbing timelines in Adobe Premiere or working through spreadsheets is easier when you have more screen real estate to work with. For gaming, the ultrawide panel puts you closer to the action and makes you feel more immersed within the game.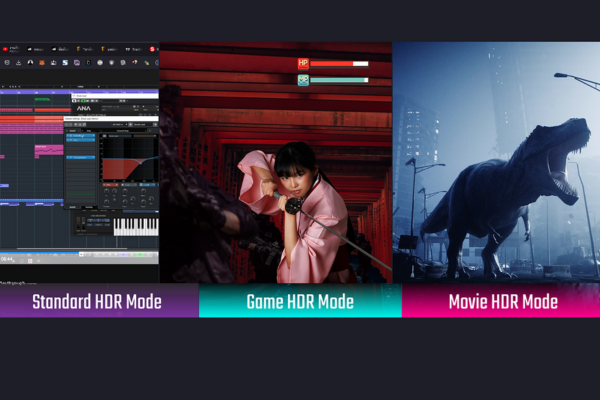 CUSTOMIZED HDR MODES
After activating HDR, you can choose from three HDR modes: Standard, Game, and Movie. Standard HDR mode allows you to adjust R/G/B color values, as well as brightness and contrast to better suit your preferences. Game and Movie HDR modes have preset configurations to optimize the HDR viewing experience based on your content.
SPEED AND RELIABILITY
With a 144Hz refresh rate combined with an ultra-fast 0.5ms (MPRT) response time, your games will look clearer than ever before. Track enemies with precision and dominate the battlefield as your enemies struggle to keep up with your speed.
FREESYNC PREMIUM FOR SMOOTHER GAMEPLAY
With FreeSync Premium, gamers are ensured a fluid, tear-free gameplay experience that also supports low framerate compensation (LFC). No matter what the game is, you'll be able to enjoy impeccably smooth gameplay at an even larger framerate range.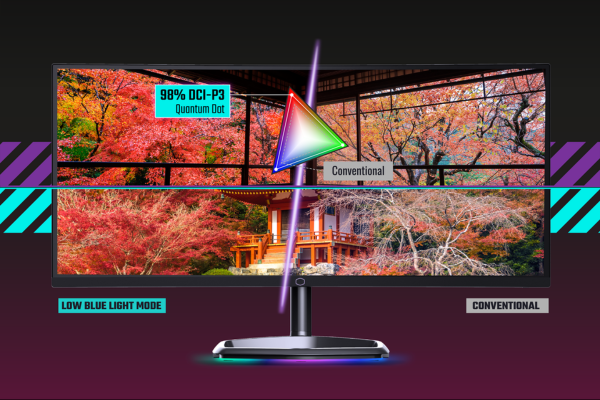 GET THE EDGE IN THE DARK
Gain the competitive edge over your opponents with our Black Stabilization mode. In particularly dark areas within games, it can be very hard to see your enemies, leaving you vulnerable. Turning on Black Stabilization will allow you to see your opponents much more easily and allow you to get the jump on them.
QUANTUM DOT RICHNESS
Your games and entertainment will look better than ever with a crisper, more detailed image on the GM34-CWQ ARGB. Utilizing a quantum-dot VA panel, the GM34-CWQ ARGB covers 98% DCI-P3 color spectrum. Experience life-like visuals with rich colors and deep contrast.
LOW BLUE LIGHT MODE
Especially useful for night-time gaming sessions, the Low Blue Light Display reduces the amount of potentially harmful blue light and makes you feel at ease during long play sessions. Also helpful in reducing eye strain and overall allowing you to play or work even longer.