Product Information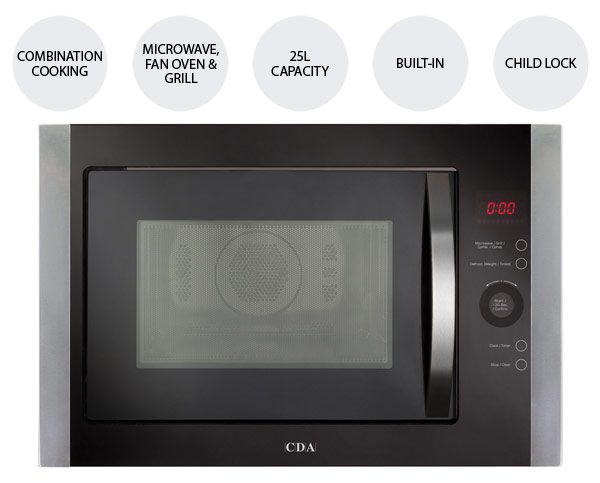 DIMENSIONS: H 388 x W 594 x D 450mm
Stylish and convenient, the CDA VM451SS built-in combination microwave offers exceptional cooking power alongside your main oven, making it the perfect addition to any kitchen. Ideal for kitchens that are lacking surface space, the built-in design adds convenience to your cooking and productivity.
SEAMLESS INTEGRATION
The VM451SS is designed to be built into your kitchen, offering seamless integration within your cupboards and alongside your other appliances. Stainless steel and black in appearance, this combination microwave has an overall modern and simplistic appearance while also saving space on your counter top.
COOKING IN COMBINATION
The VM451SS provides cooking power in the form of microwave, grill and fan assisted functions. Through ten auto-cook programmes, you can enjoy excellent results from these modes individually and as part of a combination.
The microwave element offers powers of up to 900W, great for smaller jobs. Fan assisted cooking modes provide an even distribution of air around the cavity, for thorough and even results. The grill is brilliant for quicker jobs, ideal for meat, fish or browning items.
Combining different cooking modes, you can experience even greater results. Use the grill and fan functions to roast meats to perfection.
POWERFUL PERFORMANCE
Offering five power levels, the VM451SS can be tailored to suit your dish, delivering the best results each time. With ten auto-cook programmes, there's less to think about. Simply choose a programme to suit your dish, press start, sit back and relax.
Touch controls give you quick and accurate adjustments to settings including time and power. The LED display provides all the information you need when cooking, including time remaining, power levels and more. An acoustic alarm notifies you when your dish is ready, so you can enjoy your freshly cooked results right away.
SAFETY FEATURES
To ensure your dish is cooked perfectly and to prevent any dangers, the control panel features a safety lock. Great for households with children, this lock prevents little fingers from adjusting the settings, as well as any accidental adjustments from knocks.
Key Features
5 Microwave power levels: 900W max
Dimensions - H 388 x W 594 x D 450mm
Acoustic end of programme signal
Auto cook: 10 auto cook programmes
Auto defrost
Combination cooking function
Convection heater rating: 2500 W
Convection oven function
Grill function
Grill rating: 1100 W
Grill/convection function
Interior light
LED timer and clock
Manual defrost
Maximum temp convention programme: 220°
Microwave function
Microwave/convection oven function
Microwave/grill function
Quick start
Safety key lock
Touch control
Included Accessories
Glass turntable - 315 mm
Turntable ring
Trivet
Technical Specifications
Bulb type: 25 W incandescent bulb
Capacity: 25 L
Mains cable: 100 cm
Net volume: 25 L
Power supply required: 13 A
Rated electrical power: 2.5 kW
Supplied with UK plug